Saffron Barr Cambridge - natural handmade soaps and skincare products - treat your skin!
Saffron Barr is based in Cambridgeshire, England. We produce luxury bar soaps, liquid soaps, natural creams and lotions, lip balms and solid lotion bars.
All products are handmade from carefully selected ingredients to our own approved recipes. We do not use any commercial 'bases'*. Our products are free from chemical foaming agents, SLS, parabens, petroleum based ingredients and animal fats. We use palm oil from sustainable sources and do not test on animals.
We love to use fragrance and colour and aim to produce quality products using only the finest vegetable oils, but which look and smell good too.
Our products look good, smell good and feel good!

Our products have all been safety assessed and approved for public sale by a cosmetic chemist in accordance with E.U.cosmetics legislation. Our products and labelling comply with the requirements of the Directive.

Saffron Barr Soaps are rich in colour, scent and texture. A treat for the skin and the senses.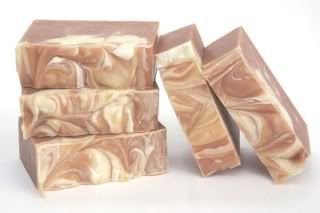 Black Raspberry and Vanilla Soap
What makes our soaps feel so different?
Our soaps are made in small batches using quality vegetable oils. They contain coconut oil, olive oil, cocoa butter and shea butter for a touch of luxury. To this we add essential oils, fragrance oils, colour and a selection of botanicals including aloe vera, French clays, cocoa, honey, oatmeal, calendula and lavender flowers.
We use both hot and cold process methods to make our soaps. Cold process bars are 'cured' for 4 weeks so they are mild and gentle for your skin, before hand finishing and wrapping. Hot process bars are "cooked" until they reach the consistency of vaseline, then poured into moulds and allowed to cool before cutting. Hot process bars are cured for a week before wrapping.
Glycerin, long known for it's moisturising qualities, is created naturally during the soap making process. Glycerin is often removed from mass produced soaps as it can be resold for other purposes. Many commercial bases used in soapmaking are sold as 'glycerin' bases, we don't need to add any glycerin to our soaps as it retains all of the naturally occurring glycerin making it both moisturising and cleansing for your skin.
* All products listed on our own site are made from scratch to our own recipes. We do offer a range of vegetable glycerin soaps for sale in our Etsy and Folksy online shops.